Egotrip Entertainment Comicks
The comic strip "Stinker"
August 3, 2003, Berlin-Friedrichshain: There's a rustle in the piles of paper in Klaf's studio. Intoxicated by solvents, Chinese ink and Grappa, Stinker digs himself free. Braun writes his stories.
These stories are about Olaf, the Little Death, and about Doc, who actually was designed as a toy robot but became philosopher instead. They tell of the charming sisters Laura sunning herself lazily by the pool, and Larissa, who has constructed Doc. Mr. Gromann has got no abdomen but a flourishing business with narcotics and Laura as wife.
And they are about Stinker, the most silent hero ever starring a series. Stinker is made of stone. His family lives on the Easter Island.
"Stinker" is three or six panels of melancholy and nonsense, of the big questions and the little mishaps. Circa fifteen stories are completed (as of October), about ten more wait patiently besides Klaf's drawing board.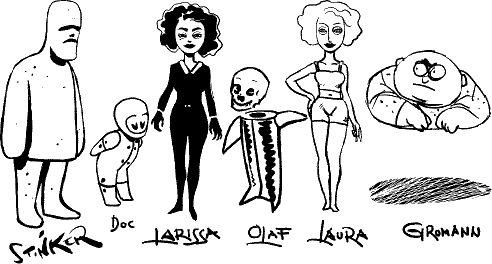 ---
---
© Klaf & Braun (Herbert Braun & Falk Nordmann) 2003 · Samariterstraße 7, D–10247 Berlin